The internet is a battleground; a great war of aspiring entrepreneurs and small businesses trying to make their mark. But only the very brave survive. Because statistics prove that 90% of small businesses fail.
And one of the greatest reasons for failure is a lack of business skills, and under this umbrella falls efficiency. Research by Huffington Post reports that the small businesses who succeed are scaling their efforts by automating tasks. In fact, it is expected that small businesses who incorporate marketing automation for instance, will grow substantially in the immediate future.
If you want to win the war and dominate your competitors online, you need to pay attention to these three business functions and the productivity tools that can be used for better efficiency and management in time-heavy processes like marketing, billing and measuring:
#1: Marketing
Marketing is the foundation of your business. You can offer the best product or service, but if no one knows about it, your business will fail. And if you don't keep selling whatever you're selling, you will close your doors.
To anchor and stabilize your business for growth, your marketing efforts need to connect you with the resources, businesses and people you are trying to reach.
It is communication which is vital to building trust and business relationships, and for that end you can use an online meeting software like ClickMeeting.
Not only can you use this productivity tool to save travel time and the costs of hosting offline meetings and conferences, but you can also use it for staff training and to provide value to your target audience in the form of presentations and webinars.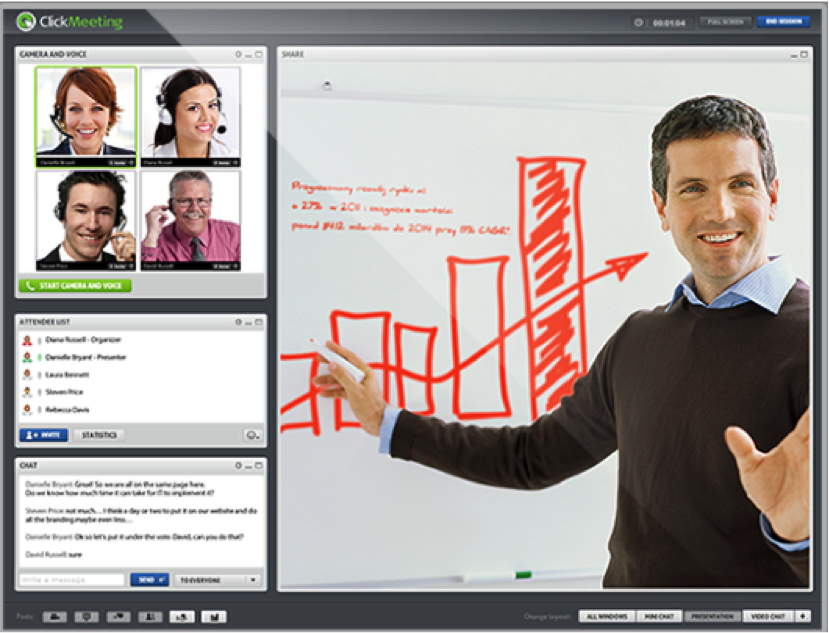 ClickMeeting provides software that boasts these top features:
File and screen sharing
Whiteboard presentations
Video recording and viewing
Web based and Android app
Integrations with Google Apps and Twitter
#2: Billing
If you're a service based business or bill according to time, you're going to want to find out more about WorkflowMax which automates workflow and job management.
On their website, they boldly state that, "A recent survey showed that on average, we save each of our customers 628 hours of time and $22,000 every year". 628 hours of time per year, per customer? Think what you could do with that time…
WorkflowMax handles everything from A – Z with regards to pre-sales and billing. As such, this productivity tool is most often used in creative, marketing, architecture, business, engineering, consulting, IT, building, and construction industries.
Some of WorkflowMax'es primary features are:
Quoting templates
Generating quotes
Timesheets and job management
Project management and collaboration
Job costing
CRM
Tracking leads, proposals and sales
#3: Measuring
51% of small business marketers say that measuring is exceptionally important to better understand customer journeys. And marketing, especially online, is all about the customer journey. But it is all too easy to become frustrated with the copious amounts of data you must sift through, all the places you must visit, and the countless switching of sites. Just as important as expansion itself, monitoring and measuring your progression as well as information collection, is often the most daunting and time wasting saga for the entrepreneur and small business owner. But it's one business function that has to be done if you want to understand what's working, and what's not. With the business dashboard Cyfe, you can save time and effort. And your nerves. The Cyfe app is used to analyze and track data from other online applications and software.
Image Credit: TechnologyAdvice
It goes without saying that it gives you a view of Google Analytics and your social media accounts, but with this productivity tool, everything is in one place, even Gmail, Google calendar and PayPal.
Nuff said. But there is more…it's top features also allow the following:
Competitor research
Dashboard sharing so clients can also have a view
Can be viewed in TV mode for teams
View data for any date range
Conclusion
There you have it. Three exceptional online productivity tools that can be used to significantly reduce your time in three of the most time consuming business areas:
Marketing
Billing
Measuring
Tasks in these business functions may not be your core business, but they are key to the sustainability and growth of your company.